Hosted by Johnson University
Scruffy City Orchestra and the Vox Royale University Choir
(Orchestra conducted by Ace Edewards)
What: Festival of Christmas Joy
When: Saturday, Dec. 1, 7:00 p.m.
Where: Johnson University
Phillips-Welshimer Auditorium
7900 Johnson Dr., Knoxville, TN
Admission:  Free (if attending music festival only)

Nov. 10, 2018
First Concert at Sacred Heart Cathedral
SCO's first concert in the Cathedral Concert Series on November 9, 2018 was a tremendous success. Led by conductor Ace Edewards, the orchestra played to a packed house in the new Cathedral of the Most Sacred Heart of Jesus on Northshore Drive in Knoxville. The concert theme was "Colors of the Orchestra" and included A Somerset Rhapsody (Holst); Romanian Rhapsody No. 2 (Enesco); Ein Morgen, ein Mittag, ein Abend in Wien  Overture (von Suppe); Mazeppa Overture (Tchaikovsky); Petite Suite (Debussy); Fanderole from L'Arlesienne Suite No. 2 (Bizet); and a special treat: the premier performance of Good Morning, Moon by local composer Vicki Nguyen.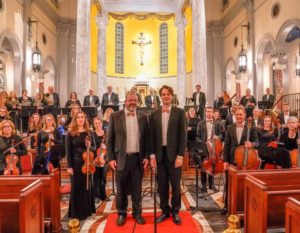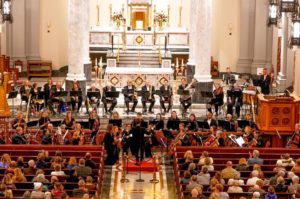 Oct. 15, 2018
Scruffy City Orchestra Joins Cathedral Concert Series
Scruffy City Orchestra is excited to announce that as of November, 2018, they are joining the prestigious Cathedral Concert Series, a program of the Diocese of Knoxville Music Commission. This program makes free or low-cost sacred and classical music ensembles available to the East Tennessee community in an effort to support the arts and grow appreciation for sacred music.
The Cathedral Concert Series includes such notable ensembles as the Tennessee Wind Symphony, the Knoxville Handel Society and the Knoxville Opera, among many others. Scruffy City Orchestra is proud and humbled to be the sole orchestra invited to participate.
The orchestra's first concert with the Cathedral Concert Series is the premiere performance of "Colors of the Orchestra" conducted by Ace Edewards on Friday, Nov. 9 at 7:30 p.m. in the Cathedral of the Most Sacred Heart of Jesus at 711 S. Northshore Drive in Knoxville. Admission is free (donations welcome, with 10% being returned to the Sacred Heart Youth Orchestra).
SCO will perform a free encore performance of "Colors of the Orchestra" at Johnson University's Phillips-Welshimer Auditorium on Thursday, November 15, 2018 at 7:30 p.m.
July, 2018
Ace Edewards Named Host of "Afternoon Concert"
As of July, 2018, SCO Conductor Ace Edewards is the Host of the "Afternoon Concert" on WUOT 91.9 FM, Knoxville!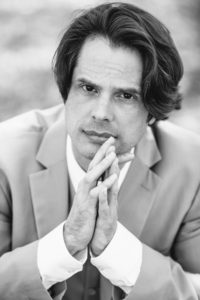 2018
SCO Conductor Ace Edewards placed 2nd in The American Prize in Conducting—community opera division! 
The American Prize is a series of new, non-profit national competitions in the performing arts providing cash awards, professional adjudication and regional, national and international recognition for the best recorded performances by ensembles and individuals each year in the United States at the professional, college/university, church, community and secondary school levels. Administered by Hat City Music Theater, Inc., a nonprofit organization based in Danbury, Connecticut, The American Prize was founded in 2009 and is awarded annually.