We are happy to announce the winners of the 2019 Scruffy City Orchestra Concerto Competition!
In our Youth category (grades 1-12), Miss Ellie Smith, a 9th grade cellist from Maryville High School, won with her solo of Faure's "Elegie".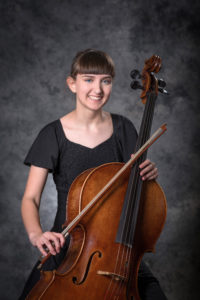 Ellie is currently in the 9th grade at Maryville Junior High School in Maryville, TN. She has been playing the cello for 5 years and throughout that time has taken private cello lessons and been a part of the orchestra program in her school. She has studied with Jeanine Wilkinson, her current private lesson teacher, since her first year of playing.
Ellie has participated in many orchestral events such as the East TN Junior Orchestra Clinic, the TN Cello Workshop, the East TN Senior Orchestra Clinic, and will attend the TN All-State Band and Orchestra Clinic in Nashville this year. Along with this, she is the co-principal cellist in the Knoxville Symphony Youth Chamber Orchestra.
Ellie plans to continue to play the cello throughout high school and college and is looking forward to new opportunities that allow her to share music with others.
In the Adult category (post-high school to age 25), the winner is Miss Kristen Barrett, a violinist in the Music Department at UT, with her solo of Lalo's "Symphonie Espagnole" (1st Movement).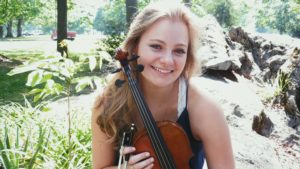 Kristen Barrett began studying the violin at the age of three with her parents Timothy and Kimberly Barrett at the Academy of Strings in Johnson City, TN. She has also studied with Dr. David Kovac at ETSU.
Ms. Barrett has performed with several orchestras and chamber ensembles including the ETSU Chamber Orchestra, Symphony of the Mountains Youth Orchestra, Milligan College Orchestra, the UT Symphony Orchestra, and the UT Chamber Orchestra. In 2017, she was a soloist with the ETSU Chamber Orchestra, performed with the Johnson City Symphony Orchestra, and the
Symphony of the Mountains Orchestras several times as a 15-year member of the "Ambassador Strings" at the Academy of Strings. Additionally, she has received special invitations to participate in elite masterclasses and honors recitals, a special guest artist recital with violinist Itzhak Perlman, and an annual music festival with Suzuki Teacher Trainer Linda Fiore.
In 2016, Kristen won the 1st place award and scholarship with the Symphony of the Mountains Youth Orchestra division, received an "Award of Excellence"; from the Academy of Strings (2018) and was a finalist in the University of Tennessee's Concerto Competition (2019). Ms. Barrett is currently a freshman at the University of Tennessee pursuing her Bachelor of Music degree in Violin Performance under the direction of Dr. Miroslav Hristov. She enjoys
teaching and working with young children and running in her spare time.
Congratulations to these fine musicians, and many thanks to the other competitors. We look forward to accompanying both winners during our May 10 concert at Sacred Heart Cathedral!
Photo credit: Ellie Smith courtesy of J. Davis Photography